Rubber & Plastic Extrusion
Hume Pipe Joint
Hume Pipe Joint
Other products for civil construction
Rubber ring provides a watertight seal around the connection part of hume concrete pipes to prevent water leakage.
It has enough flexibility to follow ground displacement, and durability is also excellent.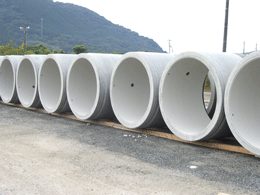 Characteristics
Specification
Accordance with tap water rubber
The material comforms to JIS K 6353 standard of rubber goods for water works, external pressure pipe comforms to fourth class, and internal pressure pipe comforms to first class A60.
Normal state properties
JIS K 6353
Class Ⅳ
Class Ⅰ A
Tensile Strength(MPa)
9≦
18≦
Elongation(%)
400≦
Hardness(JIS-A)
A 50±5
A 60±5
Elongation at 7MPa Load(%)
-
≦300
Aging Test
JIS K 6353
Class Ⅳ
Class Ⅰ A
Remarks
Tensile Strength Change(%)
≦-25
≦-20
70℃×96hrs
Elongation Change(%)
-30 ~ +10
Hardness Change (JIS-A)
0 ~ +7
| | Class Ⅳ | Class Ⅰ A | Remarks |
| --- | --- | --- | --- |
| Compression set(%) | ≦30 | ≦20 | 70℃×22hrs |
For B-type pipe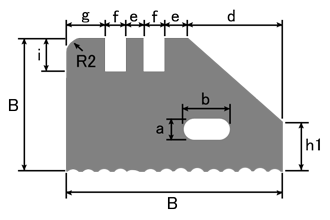 Length: 85% of the circumference around which the rubber ring is fitted
| ND | B | H | h1 | a | b | d | e | f | g | i |
| --- | --- | --- | --- | --- | --- | --- | --- | --- | --- | --- |
| 150~250 | 20 | 10.5 | 2 | - | - | 6 | 3 | 2 | 4 | 5 |
| 300~350 | 22 | 12.0 | 2 | - | - | 8 | 3 | 2 | 4 | 5 |
| 400~600 | 24 | 12.0 | 4 | 2.5 | 5.5 | 7 | 3 | 3 | 5 | 5 |
| 700~1000 | 28 | 15.5 | 4 | 2.5 | 5.5 | 11 | 3 | 3 | 5 | 6 |
| 1100~1350 | 31 | 18.5 | 6 | 4.0 | 8.0 | 14 | 3 | 3 | 5 | 5 |
For C-type pipe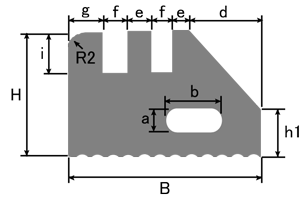 Length: 85% of the circumference around which the rubber ring is fitted
| ND | B | H | h1 | a | b | d | e | f | g | i |
| --- | --- | --- | --- | --- | --- | --- | --- | --- | --- | --- |
| 1500~2000 | 24 | 14.5 | 5 | 2.5 | 6.5 | 8 | 3 | 3 | 4 | 5.5 |
| 2400~3000 | 26 | 17.0 | 6 | 3.0 | 8.0 | 9 | 3 | 3 | 5 | 6.0 |
For built-in collar type propulsion pipe
(center-extrusion pipe)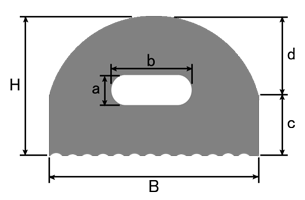 Length: 90% of the circumference around which the rubber ring is fitted
| ND | B | H | a | b | c | d |
| --- | --- | --- | --- | --- | --- | --- |
| 800~1200 | 26 | 13.0 | 3.0 | 9 | 6.0 | 7 |
| 1350~2200 | 30 | 19.0 | 4.0 | 11 | 9.0 | 10 |
| 2400~3000 | 34 | 22.5 | 4.5 | 12 | 11.5 | 11 |
For built-in collar type propulsion pipe
(improved type)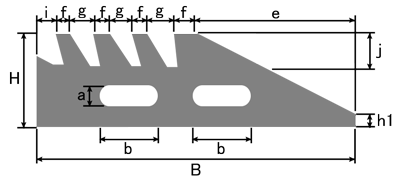 Length: 85% of the circumference around which the rubber ring is fitted
| ND | B | H | h1 | a | b | e | f | g | i | j |
| --- | --- | --- | --- | --- | --- | --- | --- | --- | --- | --- |
| 800~1200 | 50 | 15.0 | 2 | 4 | 10 | 27.0 | 2.0 | 4.0 | 3.0 | 5 |
| 1350~2200 | 50 | 20.0 | 3 | 4 | 10 | 25.5 | 2.0 | 4.5 | 3.0 | 6 |
| 2400~3000 | 60 | 23.5 | 5 | 5 | 12 | 31.5 | 2.5 | 5.0 | 3.5 | 7 |
For built-in collar type propulsion pipe
(small diameter pipe)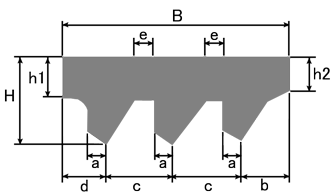 Length: 102% of the circumference around which the rubber ring is fitted
| | | | | | | | | | |
| --- | --- | --- | --- | --- | --- | --- | --- | --- | --- |
| ND | B | H | h1 | h2 | a | b | c | d | e |
| 200~500 | 28 | 11 | 5 | 3 | 1.5 | 9 | 7 | 5 | 2 |
| 600~700 | 36 | 13 | 6 | 5 | 2.5 | 8 | 11 | 6 | 3 |
Other products for civil construction
Rubber extrusion products used for mainly civil construction
Examples
Water-stop sealer for box culvert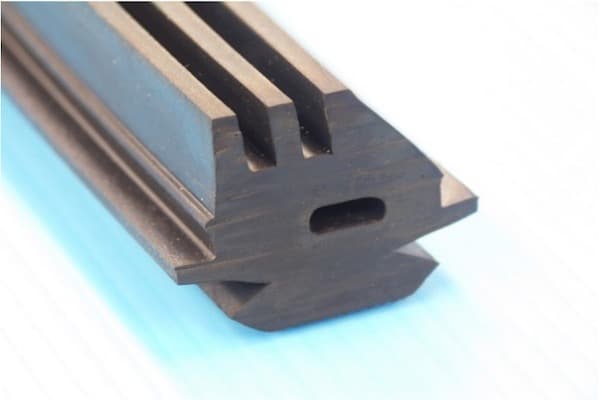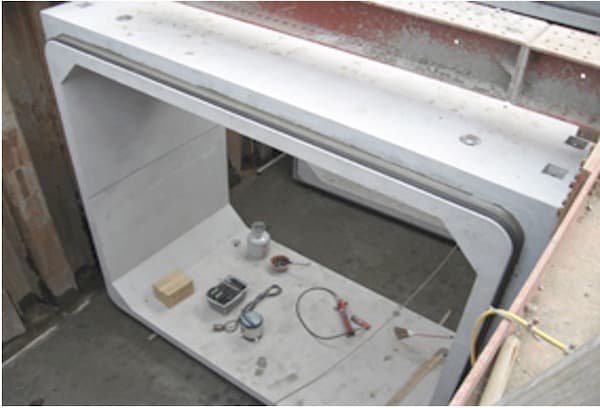 Cable protectors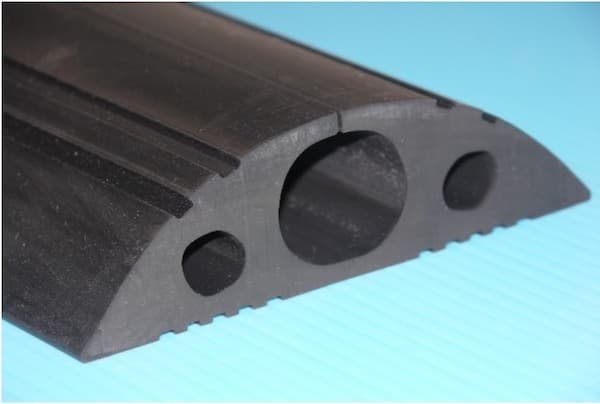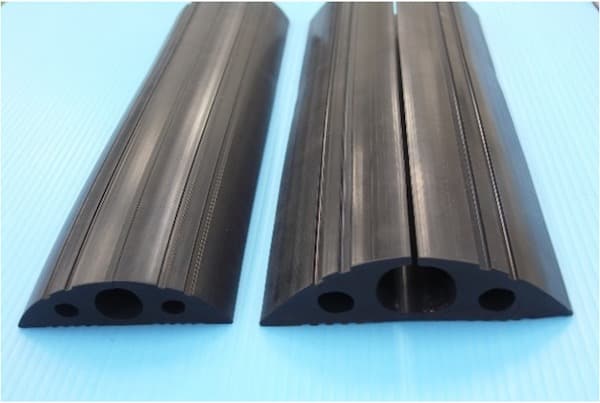 All Products
Rubber & Flake Lining

Rubber Hose

Rubber & Plastic Extrusion

Rubber Molding
Select from Fields