Rubber & Plastic Extrusion
Flame Retardant Rubber
Flame Retardant Rubber
Proper Application
Rubber products for railroad vehicle
Low smoke emission EPDM tubes
Superior heat and weather resistance provide high performance even in high-temperature environments or outdoor expousure.
The material produces less smoke and generates less toxic gas at buring compared to general purpose rubber.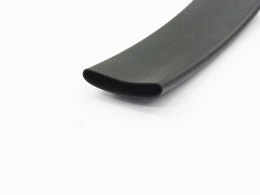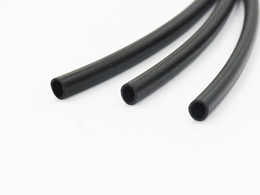 EN45545-2(R22) Test
Comply with the new European railway standard EN45545-2.Fireprotection in rail vehicles -requirement sets R22(Risk level HL2).
| | Test methods | Test results | Criteria | Remarks |
| --- | --- | --- | --- | --- |
| Oxygen index(%) | ISO 4589-2 | 31.6 | > 28 | |
| Smoke generation | ISO 5659-2 | 270 | < 300 | Specimen in 1mm thickness |
| Toxicity | NF X70-100 | 0.23 | < 0.9 | |
Physical Properties
Normal condition test(Curing condition 150℃×20min)
| | |
| --- | --- |
| Tensile strength(MPa) | 5.22 |
| Elongation at break(%) | 510 |
| Hardness | A72 |
| Specific gravity | 1.42 |
Aging test(Curing condition 70℃×96h)
| | |
| --- | --- |
| Percentage change of tensile strength(%) | 3 |
| Percentage change of elongation at break(%) | -12 |
| Change in hardness | 1 |
Conforming to JIS K 6251、6253-3、6257 standard
Flame Retardant Rubber
Solid solo, composite of solid and sponge, hollow shape, tubing
Various shapes are available
*Material Combustion Test for Vehicles of Railroad: Non-Inflammable
*UL94: V-0 Equivalent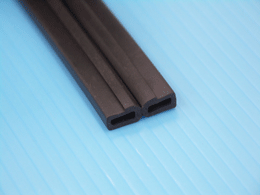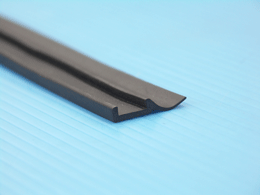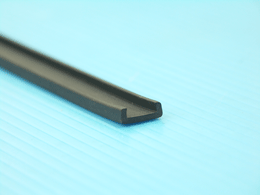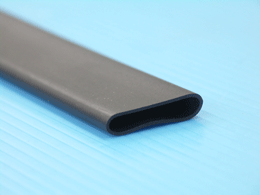 All Products
Rubber & Flake Lining

Rubber Hose

Rubber & Plastic Extrusion

Rubber Molding
Select from Fields